Our Spaces
ARCHEloft Makerspace, Eagle Block (Downtown Calgary)
Our downtown location is part of the Eagle block, a "hotbed of culture in the Beltline". ARCHEloft Makerspace continues to support Art and Culture with our 2,310 sq ft of creative co-work space, filled with various equipment and tools to create, test, and improve products and services for artisans of all trades.

Member Spaces

ARCHEloft Prime Member – Full Membership
(one available, wait list)
ARCHEloft Prime Member – Half Membership
(two available)
Regular Monthly Membership
Day Use Membership

Equipment Available

90 Watt Laser Cutter
3D Printing Services
Electronics Repair Workspace
Sewing Machines
Tabletop Screen Printing

Sign Up
---
ARCHEloft, Kelly Block (NW Calgary)
Our northwest location is seated on the upper floor of the Kelly Block, a heritage building that has housed a variety of small businesses from confectioners to a printing and lithographing company. We continue to support local businesses by providing a boutique space, meet space, photo studio, and private offices for creative types of all trades.

Member Spaces

Boutique Designer (three available)
Studio Creative
Meetspace Creative
Personal Office (one available)
Drop-in Membership
Event Use Membership

Perks

Beautiful displays for clothing & jewelry
Secluded spaces for dedicated business use
Storage available
Free on-street parking
mailbox service
Bath/Shower

*Currently operated by wedSTUDIO*

Sign Up
---
Flex Space Membership Available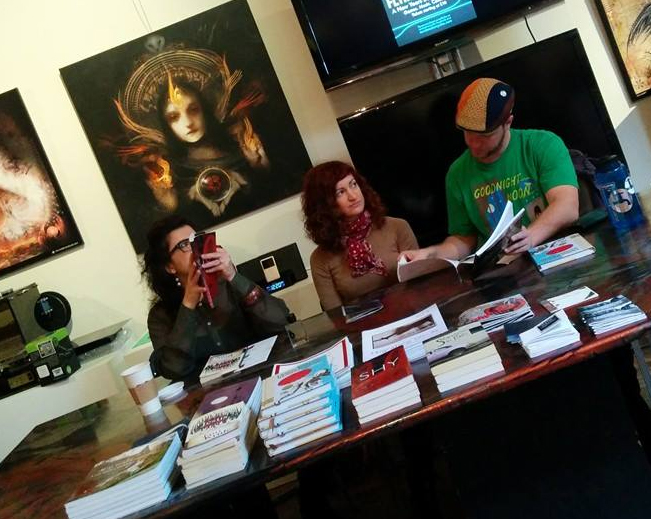 Building a creative makerspace community to offer small businesses and individuals access to two studio spaces, 3D printers, laser cutter, sewing machines, drafting tables, & meeting spaces to expand your skills, business, or side projects.
This membership includes:
-*unlimited hours at ARCHEloft Makerspace (Downtown Calgary) and either two prime time hours or four regular bookings hours at ARCHEloft – Kelly Block (Northwest Calgary)
-free training on equipment available at ARCHEloft Makerspace & ARCHEloft – Kelly Block
-discounts on hours of equipment use at member rates (versus public rates)
-unused hours at ARCHEloft – Kelly Block can be carried over from month to month
-discounted rate for add-on hours
*unlimited hours during ARCHEloft Makerspace open hours – members must work in the presence of a ARCHEloft Prime Member (hours may vary and can be negotiable)*.
Enjoy the perks of both ARCHEloft co-work spaces for only $80/month.
Book Us for Your Event

Our Downtown location, ARCHEloft Makerspace, has 550 sq. ft. of open concept space available for events, ideal for workshops or team building events.
Details:
Standing Room: 90 guests
Banquet Style: 5 round tables or 6 rectangular tables
Row Seating: 8 to 9 rows
Workshop Style: 60 guests with seating
*Chairs and tables can be provided upon request
*Catering options available
Peak Hour Rate: $200/hr
Off-Peak Hour Rate: $150/hr
---

Our Northwest Calgary location, the ARCHEloft – Kelly Block, has few more event space options for all occasions
– ideal for photo shoots, pop up shops, and private events.
Hourly Rate – $50/hr per workspace
-includes workspace and use of office equipment and/or various studio equipment (lighting is an additional charge)
-complimentary coffee & tea service
Special Event – Full Day
-Up to ten hours per day for exclusive use of a workspace
-workspace is provided without furnishings
-chairs, tables, AV equipment, etc. are additional charges

$300 CAD/Day Use

Special Event – Full Evening/Weekend
-Up to ten hours per day for exclusive use of a workspace
-workspace is provided without furnishings
-chairs, tables, AV equipment, etc. are additional charges

$480 CAD/Evening or Weekend Use
---
Natural Light Studio

-Equipped with white paper roll for natural light photography
-Sink and counter available for accompanying makeup artists and hair stylists

220 sq. ft

Capacity:
36 guests (Standing Room), 25 guests (Reception style)

 Meetspace/Alternate Natural Light Photo Studio

-Decorated with meeting table, sofa, work desks, and TV for presentations
-Equipped with paper roll system for natural light photography
-Access to kitchen with tea/coffee service (150 sq ft)
-Perfect for catered events

192 sq. ft

Capacity:
32 guests (Standing Room), 20 guests (Reception style)

 Consult Space

-Small TV Screens to promote photo or video work,
-Larger TV screen for slideshows and other A/V media
-Shadow boxes available to showcase work or merchandise

100 sq. ft

Capacity:
16 guests (Standing Room), 10 guests (Reception style)

 Designer Boutique

-Featuring the works of Javeda & Laura George
-Change Room available
-Bathroom attached
-Perfect for pop up shop events

200 sq. ft

Capacity:
33 guests (Standing Room), 20 guests (Reception style)

 Private Office

-secluded workspace with lock
-bright natural lighting
-furnished options available

100 sq. ft

Capacity:
16 guests (Standing Room), 10 guests (Reception style)
---
Photo Source: Google Maps (ARCHEloft – Eagle Block)
Jeremy on Flickr (ARCHEloft – Kelly Block)