GRAFFILTHY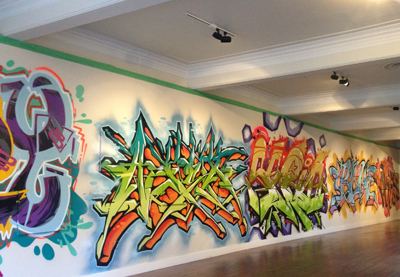 Opens Oct 9, 7 – 9pm.
Exhibit runs until Nov 17.
Graffilthy brings graffiti, the art that is showcased in the underbelly of the city to the pristine atmosphere of the gallery. The installation of a 70ft long mural onto the surface of the gallery is the closest way we thought we could bring some of the true essence of graffiti to such a space. It is our pleasure to show work from graffiti artists from Alberta and British Columbia. The rebellious part of graffiti says it belongs in the street where the art side tries to showcase the talents that these artists have developed. You be the judge.
We work closely with curator Adam Melnyk, who is the author of Visual Orgasm: The Early Years of Canadian Graffiti, which was released in November 2011. He has been documenting graffiti since 1996 and is an expert of the culture.
Exhibit includes:
Afex has been perfecting his graffiti skills since the mid 90's and has started to develop his presence in the art scene in Calgary.
Gravy brings a fun loving style to the often gloomy side of graffiti. Most recently he has begun doing tattoo work.
Hype is a master with the spray can. He can do letters, characters and signage. His work can be seen all over Victoria, BC.
Pesto has been doing graffiti for over 19 years. He has started doing wood work to bring more life to his artwork.
Rove is all business from his stylish pieces to his precise lines. He is known for bringing the funk.
Servo serves up some mean graffiti with his large letters and big flares. His creative juices are just starting to boil over.
Voes does grimey graffiti and has brought that same style to his art work. He enjoys playing with layers and bringing different dimension to his pieces.
Group Exhibition Opening Sep 6, 5 – 8pm.
Group exhibition features 10+ artists including:
Andrew Jones – Visionary digital artist
Casey Hughes – Ferrofluid sculptures
Dave Ware – Lego art
Doug Seidl – Digital art
George Duncan – Blacksmithing
Issac Mills – Visionary digital artist
Justin Totemical – Visionary digital artist
Manuka Forge Studio – Blacksmithing
Nikki Gour – Mixed media art
Simon Haiduk – Visionary  artist
Tammy Fischer – Mixed media art
CLOSING EVENT OCT 4, 5 to 8pm.
Casey Hughes is a Calgary artist whose sculptures are interactive and playful.
"I work with art and technology to create contemporary works which challenge classifications using traditional standards. We are at the beginning of a new age of art and design where the artist and designer needs to become much more than a skilled craftsman working to master one trade. Collaboration with experts in other industries is key, and technology enables us to use and combine expertise along with many new mediums, digital and analogue; we now are able to transcend the past traditions of art and design to build new paradigms of creative output. The artist and designer of today will find success utilizing skills in communication and collaboration to compliment their trade".
His work is available at gallery, some pieces are for display only, however commission work and small ferrofluid cells are available to the public.
Watch video: Casey Hughes – Ferrofluid window