Opens May 8,  7 – 10pm
Exhibit May 8 – June 5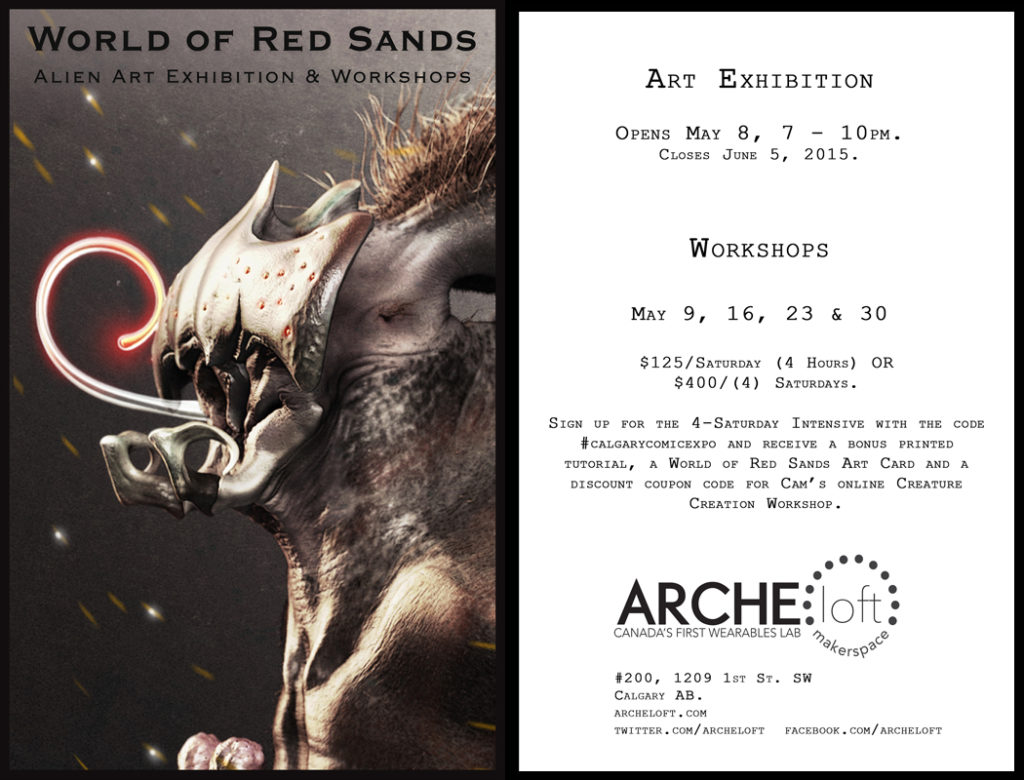 The World of Red Sands Alien Art Exhibit will be a collection of highly detailed and lifelike figurative sculpture based on the life forms of a distant world created by Cameron Farn. Taken straight from his imaginative mind and presented as large scale busts and full scale figures they will appear in the exhibit with their design illustrations, paintings, props and Images of the development of the life-forms including écorchés (anatomy and muscle studies).
Cameron Farn, a prolific designer and digital/traditional sculptor, began the work as a way to visualize the characters and their place in his world while story notes were being penned for a future novelization. Some of the life-forms were of such an unusual design they required deeper anatomical study and development to understand just how they might have evolved to survive in the environment being described in the written work. As the story concept has grown the cast of digital sculptures has expanded to nearly thirty unique species, which are now ready to go to the next stage of production.
Red Sands has evolved from a story concept into an otherworldly art experience based on anatomical study and the use of what Cameron calls creative reasoning. The project when complete will open in Calgary but is designed to be toured as a special event to distant locations including conventions, gallery showings and educational venues such as science centers, to allow as many interested and enthusiastic alien art lovers to enjoy not only the spectacle, but the work taken to create it.
The character busts and figures are first created as digital sculpture in the academy award winning software called ZBrush. Each is meticulously formed and detailed, and then are milled using computer navigated cutting machinery (CNC). Milling materials and CNC time have been generously donated by F&D Scene Changes Ltd and will allow Cameron to mill the busts at approximately 5′ tall while the full size figures will be milled at their natural scale, some ranging from 4′ to 10' tall. Each of the characters are sculpted to include wrinkles and pores, and every imaginable detail is supported by hand crafted finish and paint work.
The exhibit is centered around the presentation of the large scale busts and figures, but the characters need context to draw the viewer into the story and so each will be outfitted to survive in their environment with appropriate tools, weapons and gear which helps ground them to a way of life and firmly sets them in the World of the Red Sands as a fully realized living being.
Artwork available for purchase.
Artist statement and bio:
"My purpose is to create. In that process I find stillness and rhythm, my teacher and passion. With intention, I aim to share honesty and awakening; to celebrate this fantastic adventure; to inspire and be inspired. Each canvas takes me on a journey, and as my paintbrush follows, each time I am lead back to my center.
In this shifting and challenging Time, I feel a deep stirring, a potent blossoming of creativity. It is all around us, gaining momentum and strength; in our own lives, in those of our family and community, and in the collective experience. It is our divine duty to create and share inspiration, especially at this time of change. As we honor our own personal creativity, we contribute vitally to the whole. We inspire those around us to celebrate, we empower them to create, we manifest visual mirrors to the light, divinity, and potential of each viewer.
As in any art form, as we release judgment, silence our mind, breathe deep into the process, and find bliss in each step; we realize that we are boundlessly assisted in our authentic and heart-centered expression. We step out of the way. We realize that the Art is not born of us, but through us, and in this understanding we are humbled, yet profoundly empowered. Each creation is an offering: a positive reflection of ourselves and humanity, a celebration of evolving consciousness, an opportunity for healing and deepening, a vision of a bright future and Now.
May my paintings be a mirror, a reflection of your universal light, your human essence, and your timeless divinity."
All pieces are available for purchase.
Exhibition Nov 17 – Jan 10
We have a stunning collection of visionary art in this exhibition. Featuring works by Android Jones, Simon Haiduk, Andy Thomas, Andrew Gonzalez, Anna Dittmann, Shaun Freezen, Fabian Jimenez and more. All pieces are limited editions available for purchase.
On Dec 13
We partner with our friends at Evolved Productions to celebrate the second visionary nanotech exhibition.
BUY TICKETS

MICHAEL RED (Low Indigo, Lighta! Sound, Chambers) – Vancouver BC
Michael Red is a Vancouver-based electronic music producer, performer and DJ.
"Red combines "sound art" with DJ art, improvising live and blending atmospheric touches with dancefloor sensibilities, all immersed in the careful spirit of dub. His DJ sets traverse the entire universe of "bass" and beyond, always mining the future for the most original and intriguing sounds he can find." -Andrew Ryce (pitchfork, RA)
Stage Design Visual Project: Cubist Monolith
By: Lo Definition
Test Video on vimeo.
—–BOOK LAUNCH—–
Design Remix and Visionary Nanotech:
The Galactik Trading Card Oracle Complex
Support local artisans and makers and find an interesting gift for you, your family and friends.
Oct 16 – 26
Presented and curated by Torch Motorcycles.
.
For 10 days in October, end of season for most riders in this part of the world, Torch Motorcycles hosts a celebration of our communities and those individuals inspired to tinker, craft, mod, and build by hand. A collision of design, engineering, fabrication, craft and creativity… and the relationships that sustain them — the Handbuilt Motorcycle & Surf exhibition is a place to appeciate beautiful motoycycles and boards, meet kindred souls, and explore innovative ideas.
The Handbuilt Motorcycle & Surf Show is an inclusive experience. If you're a novice or purist, a rider or contemplating becoming a rider, we've pulled together the kindest and most generous individuals whose DNA compels them to share more than you can stand about their bikes, boards, apparel, and the rides they love. We are all about the flow sports and we guarantee you'll see 'amazing' and learn something new.
And, most important to Torch Motorcycles, this is a place for women. Whether you're happiest as a riding partner, on your own machine or board, or are looking to dip your toe into the sport in a safe and encouraging space, the Handbuilt Exhibition is for you. We have the best and brightest young engineers, experienced gal builders and riders, beautiful bikes that are better builds for our bodies, and the best apparel designers in our community.
Enjoy having a close look at the programming and we look forward to seeing you in a few weeks!