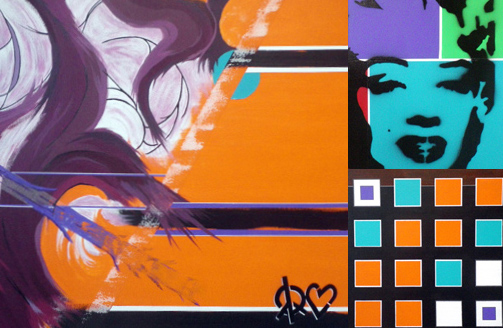 CrossRoads
Art Exhibition March 4 – 30
Opening March 7, 6 – 9pm
Endeavor Arts is excited to host a collaboration between Zachary Abbott and Koos de Jongh, street artist and abstract artist respectively. This exhibit is a balance between complimenting and conflicting, presented in a variety of mediums on steel and canvas. Both artists share affinity for the risk and color schemes of street art and they have also been fortifying their abstract techniques.
Twenty-three year old Airdrie muralist Zachary Abbott is passionate about street art with an abstract feeling. He
likes to combine fine art with hand-styles. Bringing these concepts to dimension with aerosol and acrylic processes, they blend into a brilliant juxtaposition. The CrossRoads to Zachary is a mixed media masterpiece with paints spilt, brushed, sprayed, taped and sponged over an industrial steel backdrop and a collection of fine lines.
Koos de Jongh is a self- taught artist from the Netherlands, now residing in Airdrie. He started creating paintings in 2007. He has attended abstract painting classes at the Alberta College of Art and Design and collaborated with
several abstract artists. Most of his paintings are on canvas using acrylics and mixed mediums. The paintings are
abstract and vibrant with extensive use of colour. For CrossRoads, de Jongh combined abstract and street art, both being of interest. He chose a Marilyn Monroe image to anchor the work to honour one of his artistic heroes, Andy Warhol. This is the first project where de Jongh has added spray paint and markers to his art supplies.