Opens May 8,  7 – 10pm
Exhibit May 8 – June 5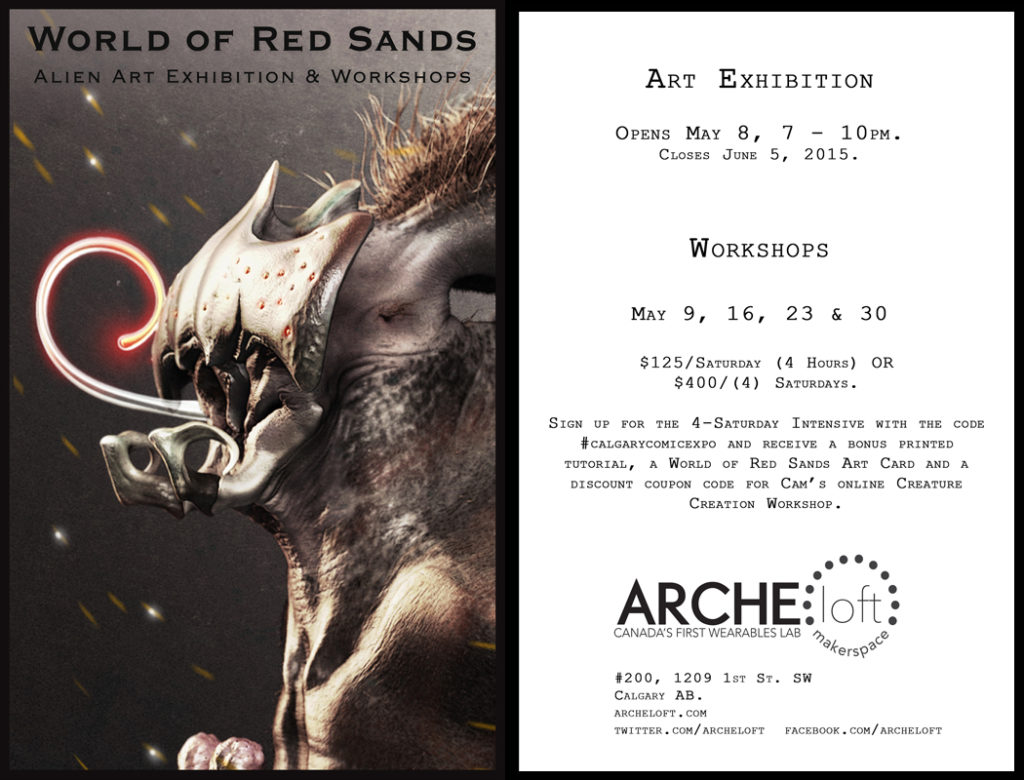 The World of Red Sands Alien Art Exhibit will be a collection of highly detailed and lifelike figurative sculpture based on the life forms of a distant world created by Cameron Farn. Taken straight from his imaginative mind and presented as large scale busts and full scale figures they will appear in the exhibit with their design illustrations, paintings, props and Images of the development of the life-forms including écorchés (anatomy and muscle studies).
Cameron Farn, a prolific designer and digital/traditional sculptor, began the work as a way to visualize the characters and their place in his world while story notes were being penned for a future novelization. Some of the life-forms were of such an unusual design they required deeper anatomical study and development to understand just how they might have evolved to survive in the environment being described in the written work. As the story concept has grown the cast of digital sculptures has expanded to nearly thirty unique species, which are now ready to go to the next stage of production.
Red Sands has evolved from a story concept into an otherworldly art experience based on anatomical study and the use of what Cameron calls creative reasoning. The project when complete will open in Calgary but is designed to be toured as a special event to distant locations including conventions, gallery showings and educational venues such as science centers, to allow as many interested and enthusiastic alien art lovers to enjoy not only the spectacle, but the work taken to create it.
The character busts and figures are first created as digital sculpture in the academy award winning software called ZBrush. Each is meticulously formed and detailed, and then are milled using computer navigated cutting machinery (CNC). Milling materials and CNC time have been generously donated by F&D Scene Changes Ltd and will allow Cameron to mill the busts at approximately 5′ tall while the full size figures will be milled at their natural scale, some ranging from 4′ to 10' tall. Each of the characters are sculpted to include wrinkles and pores, and every imaginable detail is supported by hand crafted finish and paint work.
The exhibit is centered around the presentation of the large scale busts and figures, but the characters need context to draw the viewer into the story and so each will be outfitted to survive in their environment with appropriate tools, weapons and gear which helps ground them to a way of life and firmly sets them in the World of the Red Sands as a fully realized living being.
Artwork available for purchase.
Exhibition Nov 17 – Jan 10
We have a stunning collection of visionary art in this exhibition. Featuring works by Android Jones, Simon Haiduk, Andy Thomas, Andrew Gonzalez, Anna Dittmann, Shaun Freezen, Fabian Jimenez and more. All pieces are limited editions available for purchase.
On Dec 13
We partner with our friends at Evolved Productions to celebrate the second visionary nanotech exhibition.
BUY TICKETS

MICHAEL RED (Low Indigo, Lighta! Sound, Chambers) – Vancouver BC
Michael Red is a Vancouver-based electronic music producer, performer and DJ.
"Red combines "sound art" with DJ art, improvising live and blending atmospheric touches with dancefloor sensibilities, all immersed in the careful spirit of dub. His DJ sets traverse the entire universe of "bass" and beyond, always mining the future for the most original and intriguing sounds he can find." -Andrew Ryce (pitchfork, RA)
Stage Design Visual Project: Cubist Monolith
By: Lo Definition
Test Video on vimeo.
—–BOOK LAUNCH—–
Design Remix and Visionary Nanotech:
The Galactik Trading Card Oracle Complex
Support local artisans and makers and find an interesting gift for you, your family and friends.
Next pop up cafe is Oct 16 as we celebrate AB-STRAKT373 newest exhibition! 
Once again Latte Art Love Pop Up Cafe will be creating really cool #superhero latte art! 

We know it's HOT out, so Elle will be preparing some cold ICED drinks too!! And try some yummy pastries too, perfect combination right?
Other artists in exhibit you can check:
Patrick Rochon, Light Painter, Manuka Forge Studio, George Duncan, Casey Hughes.
Feel free to ask us questions on how-tos and techniques!
Pre-purchase Drink tickets to skip the line: https://latteartlove.com/store/products/july-26th-pop-up-market-drink-tickets/
Evolve[-]d Productions & Inner Journeys presents:
"Honouring the Medicine – Dancing the Wheel"
A Transformational Ecstatic Dance Series
Wednesday, May 14, 2014 @ 7pm – 9:30pm
(Arrival time: 6:40pm)
Hosted by Inner Journeys Facilitator: Kylee Dawn
– Co-Founder of Inner Journeys
– A Certified Kundalini Dance Facilitator
– Co-Owner of Evolved Productions
Join us for a sacred journey, "Honouring the Medicine – Dancing the Wheel".
This is a intentionally crafted series by two women (Kylee Dawn & Kaia Mitchell), inspired to go deeper into the fabric of creation. This is a five part series, that will coincide with the seasons to ignite and authentically connect with the energies of the Medicine Wheel.
We offer this invitation to join us for our first session, May 14th, as we dance our first direction of the EAST. This is a time of Rebirth, a time when all things are possible. It is a time of Innocence, and a time of Awakening.
Session Investment: $25.
Full Series Investment:
* For those that seek to join us for all five sessions, $111
Schedule:
Session 1 – East – May 14th
Session 2 – South – July – TBA
Session 3 – West – September – TBA
Session 4 – North – November – TBA
Session 5 – Creator – December – TBA
Vision:
This series is an introduction to the Medicine Wheel, where next Spring we will begin to embark on an indepth year journey Honouring the Medicine. We intend to continue evolving these gatherings in time and length. With Kylee Dawn located in Southern Alberta, and Kaia Mitchell on the islands of BC, we will be hosting this series sync'd up in time with one another, and with next Spring it will be facilitated by the two of us together in both communities for a weekend journey.
No Dance Experience Needed.
Space is Limited – Register Now.
REGISTRATION
* Space is limited, so register early to confirm your spot.
* To register: email Kylee Dawn: kylee@evolvedproductions.ca; or phone 403.404.1920
(**due to this class filling quickly, full payment is required to secure your space upon time of registration)
REGISTRATION OPTIONS
1. Online Interact/Money Email Transfer to *kylee@evolvedproductions.ca
*please send password
Online Registration Steps:
– Log into your online banking
– Find the INTERACT/Money Transfer option
– Send payment via email to kylee@evolvedproductions.ca
**REQUIREMENTS:
=> Send password and personal email address to kylee@evolvedproduction.ca
**Please feel free to forward this invitation email to anyone who you feel would also benefit from this retreat!**
Kylee Dawn
Kylee Dawn has a passion for the Inner Journey. Through trance dance, breath-work, sound and stillness, it all has its place for adventuring within. Kylee Dawn guides those into the heart, to awaken, activate and embrace knowing one's being. Along her path, she has explored many modalities and mentors, which have empowered her to bring her own gifts to life. Kylee Dawn has been facilitating ecstatic trance dance and breathwork since 2006, is one of the founders of Inner Journeys; a certified Kundalini Dance Facilitator; a Transpersonal Breathwork Facilitator, a Reiki Master, and a Developmental Gymnastics Coach. www.evolvedproductions.ca